About David
David was elected as a Member of Parliament in May 2005.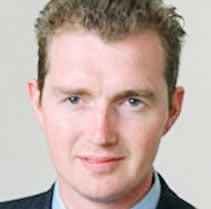 After leaving school in 1988, David worked for the British Steel Corporation and joined the Territorial Army. Boredom took him abroad for several years, mainly to Australia and Asia. During this time he had a variety of jobs including grape picking, tobacco harvesting and running a backpackers hostel in a tourist resort in Queensland. He returned to join the family tea importing and shipping business in 1992.
David became the only Conservative elected by 'first past the post' to the Welsh Assembly in 1999 with a 2,500 majority. Following the second Assembly elections in 2003 he was again the only Conservative to win outright this time with a majority of 8,500. He was subsequently selected as the Conservative Parliamentary Spokesman for Monmouth for the next general election.
David married his long term Hungarian girlfriend Aliz in October 2003. Their daughter Sophie was born in August, 2004.
When not actively campaigning in Monmouth, David likes to keep fit by running and swimming. A one time fanatical surfer and a supporter of the environmental group Surfers Against Sewage, he can still be found at Rest Bay Porthcawl or Llantwit Major although he admits that family commitments have restricted the opportunities to get into the water!